Mission Statement
Our mission is to create the environment and circumstances that provide us with the opportunity to help children live life easier. We alleviate the suffering and improve the lives of children through fun and effective pediatric occupational, feeding, massage, and speech therapy. Our pediatric therapy treatments address the underlying problems and not just the symptoms.
At FUNctionabilities, we provide answers by offering a multidisciplinary, highly trained staff that will improve your child's ability to successfully navigate through life. We specialize in sensory integration, handwriting programs, listening systems, and vision therapy. Our speech, feeding, and occupational therapists have extensive experience working with children who struggle with autism, developmental delays, ADD/ADHD, and learning disabilities. We use cutting-edge, evidence-based therapy to create an environment and activities that provide stress relief and expand your child's ability to function and fit in with more ease.
We make pediatric therapy fun so your child is "Learning to Play" and "Playing to Learn".
---

Our Philosophy / Our Approach
We believe children have an inalienable right to be happy and have fun; in doing so, learning becomes easier. At FUNctionabilities, we believe that as skilled professionals, we have a responsibility to provide the "just-right" opportunities and environments to facilitate your child's success. As they experience these successes motivation is fostered and the desire to try becomes second nature.
We believe your child is unique and requires individualized therapies. At FUNctionabilities, we tailor our treatment sessions from a range of well-respected, evidence-based strategies and programs such as neurodevelopmental and sensorimotor theories. We believe in a team approach to treat each child that includes not only therapy-related activities, but also integration of new and improved skills into everyday activities while simply having fun. Our comprehensive, collaborative approach leads to lasting results that carry over into your child's school, home, and community environments.
We found that our community has few options for pediatric outpatient therapy, and even fewer therapists who have extensive training and the equipment to treat the difficulties many of our children face today. We believe that when children are struggling they should not have to wait to receive life-changing treatment. Due to this shortage of pediatric outpatient clinics in our community, we believe children aren't being treated frequently enough to make quick and steady progress. We offer intensive treatment (2 or more times per week), so that you no longer have to accept slow behavioral and neurological changes!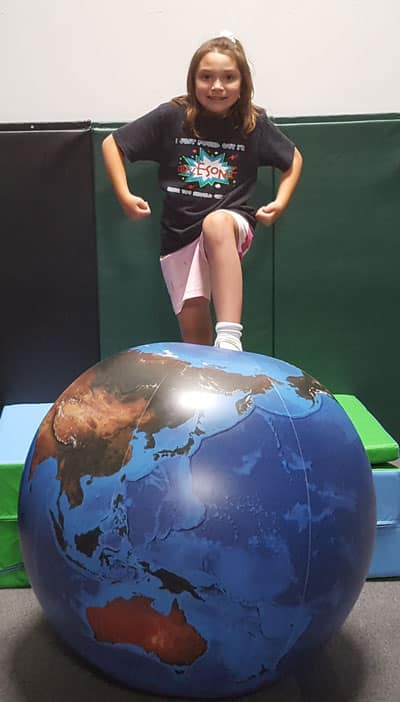 "I made an appointment for an evaluation for the very next week. Our daughter fell in love with the therapy and the therapists immediately. She has made such progress, it's astounding!" (Kristiane K.).
The family is the heart of a child's existence, and as such, we believe you as parents are an important member of our team. You are the expert on your child. We believe your involvement and education are key to your child's success.
FUNctionabilities is a place where your child is challenged but will always find success. A place where your child can begin to understand what movement is and how their bodies respond to movement, leaving their minds free to think, learn, and play. A place where highly trained professionals, who innately love your child, assist your child in learning to play and playing to learn.